Vacuum Sealed Stainless Bottles: 3 Bottles
Product Description
Nothing Stores Ionized Water Like These Vacuum Sealed Stainless Bottles!
Our double-walled, food grade/commercial grade, BPA-free, high-quality vacuum sealed stainless bottles are the perfect storage containers for ionized water!
Storing ionized water is a challenge! We've had customers asking us about ionized water storage for years, and before these vacuum stainless steel water bottles we could only recommend mason jars. Most bottles will not work well to store ionized water, because there needs to be no air bubble to let the anti-oxidants escape into.
After years of testing, Alkaline Water Plus can safely say that your pH and ORP will remain at almost fresh-poured levels all day long using these insulated bottles! Just fill them to just above the inner "lip", screw on the lid and go! Hours later you can open and drink great, refreshing ionized water! These bottles provide an effective way to carry your ionized water and keep it as good as when you first poured it. They are double-walled. and thermal-insulated.
In all of our years of testing we have never found a bottle that stores ionized water as well as our vacuum-sealed stainless bottles.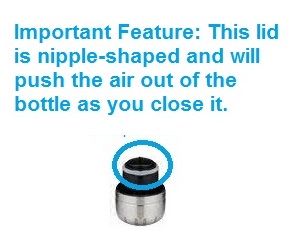 Why do these Vacuum Sealed Stainless Bottles preserve the ionization so well?
It has to do with both the high-quality materials and design which won't allow any gasses to escape and the specially-designed lid which doesn't trap air in the bottle.
Each bottle holds 3/4-liter [or about 24 oz.]
Buy 3 Bottles for the low price of only $39.95! [2 will be silver/stainless colored and 1 will be green unless you specify otherwise in the comment section of the order form.
If you would rather order a single bottle, then check out our special discounted price on single bottles. We want to encourage you to buy these bottles! They really are that great! Vacuum Sealed Stainless Single Bottles
Care of Bottles
It is not suggested to use a dishwasher or harsh detergents with these bottles, because you may damage the exterior finish. A gentle, easy wash with mild temperature water is all you will ever need.
Use caution with these bottles so as not to drop them and break the handles. The handles are not necessary to the integrity or use of the bottle, but are a handy feature which can last for years if they are handled with care. The handles cannot be replaced if they break off, although you can still use the bottle without the handle.
Lab Tests Show Storing Alkaline Ionized Water Safe
See below for a link to lab results of storing ionized water for several days in these vacuum stainless bottles. It shows excellent results, with no toxins, whatsoever, getting into the water.
Links
Product Reviews
Write Review
Great price for top quality

By Johnnie Hoffman

I did a lot of research before I bought these bottles. Best price by far. Received them in 2 days. Definitely keeps the water ionized. Oh yeah and they're really nice looking ..just top quality all the way around. You will be very happy you purchased these.

This one is by far the best!

By Rachel Hurwitz

I have owned many water bottles over the years and this one is by far the best. I cannot say enough good things about the vacuum stainless sport bottles. I don't have to worry about the harmful effects of plastic and it keeps my water cold all day. It is truly a wonderful product!

They look great and are a very good quality

By Tom Nitka

We just purchased five of these bottles and they are awesome. They look great and are a very good quality. I would recommend these to anyone who wants a sturdy and convenient way to store their water.

I absolutely love them!

By Nancy Schatz

I recently ordered the set of 5 water bottles & absolutely love them, before these we were keeping the water in glass bottles w the lock seal tops, but these are so much better. Keeps the water colder and no condensation mess.

They are really handy

By Steve B

Just purchased a set of 5 ea Stainless Water Bottles. One holds 24 fluid ounces, so 5 hold just under a gallon. Placed them in the refrigerator and used one yesterday on the bicycle trail. The bottle fit perfectly in the clip on the bike frame. Perfectly. After 3 hours out on the trail, I drank the last of the water and it was still cold. Very cold. It was 90 F with full sun. The throat opening is 1 5/16 inches which is perfect for drinking. These will make great Christmas and Birthday gifts for all my friends. They are really handy (12′ X 3″) with a carry handle that is quite utilitarian. IF you do not like cold, cold water when exercising, consider filling half with room temperature water. i.e., The insulating qualities of the bottles are that good!
Find Similar Products by Category
Customers also viewed